Gynecomastia Surgery in Mumbai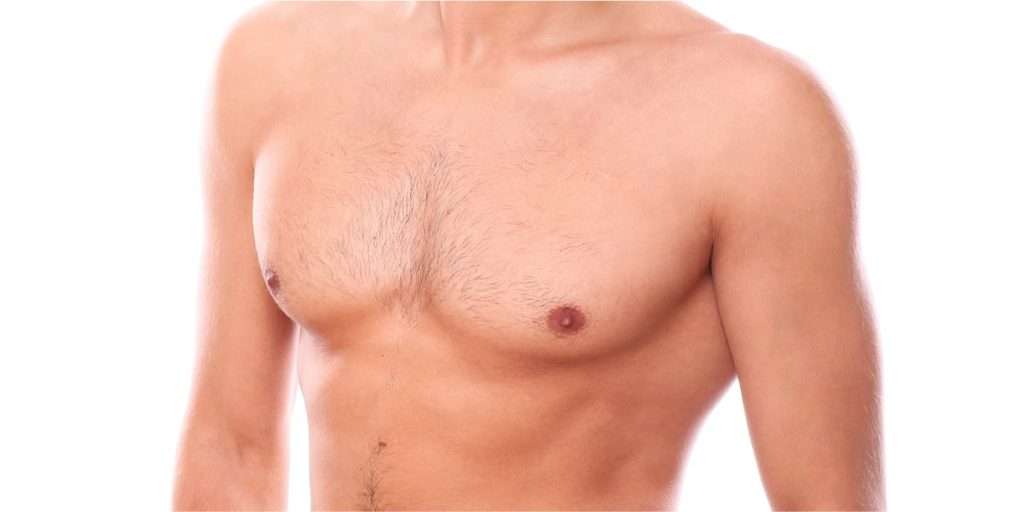 A masculine chest is flat and firm with some muscular definition. Gynecomastia or male boobs enlarge male breasts, causing the chest to have a feminine appearance. The increase in the size of male breasts can be physiological at the extremes of age and during puberty. On the other hand, It can be pathological due to certain medications and health conditions. Having gynecomastia is something that men find embarrassing and makes them self-conscious. However, this condition can be treated through Gynecomastia surgery in Mumbai by our surgeon, ensuring a dramatic improvement in your body profile.
WHY MAY YOU WANT A GYNECOMASTIA SURGERY?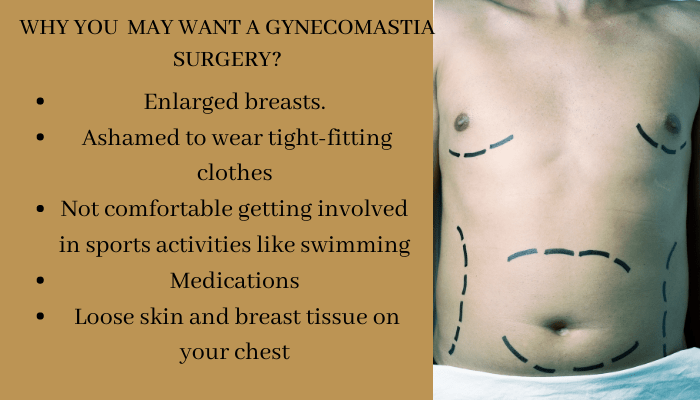 There are many reasons for men wanting a masculine chest. The good news is our proficient Gynecomastia surgeon in Mumbai provides men the desired result through surgery. Some reasons why men want this Gynecomastia treatment is discussed below.
BRIEF OF OUR GYNECOMASTIA TREATMENT OR GYNECOMASTIA PROCEDURE IN MUMBAI:
As per our gynecomastia surgeon in Mumbai, pre-operative marking is a crucial part of the procedure and is done in a standing position just before your surgery. Your surgery is performed under general anesthesia. It is usually a daycare procedure and may not require an overnight stay at the hospital. Our Gynecomastia treatment in Mumbai consists of two components fat and gland tissue. The surgery involves liposuction and gland removal. Liposuction is done through very small cuts made on the sides of your chest to remove the fatty tissue present in your breasts. 
After the liposuction is done, a cut is made at the junction of your areola and skin. The enlarged portion of your gland tissue is removed through this cut. Only in cases where there is a lot of weight loss, the component of extra skin is also present, and the cuts have to be made below the breasts to remove the extra skin. A tube may be placed in your breasts to drain the excess blood and fluid if required. The cuts are all closed with stitches and covered with dressings.
RECOVERY OF BREAST FROM GYNECOMASTIA SURGERY IN MUMBAI :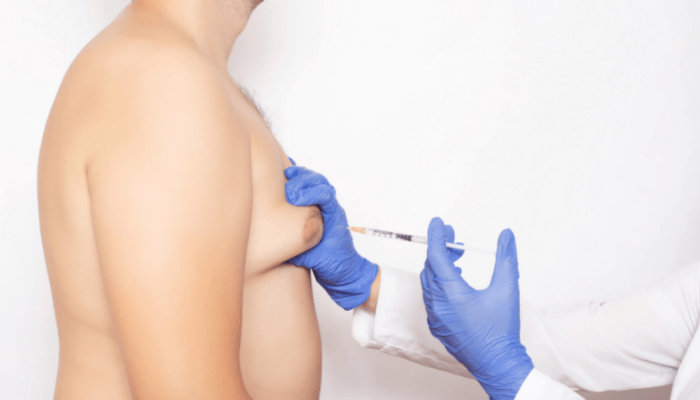 You will be discharged from the hospital either on the same day or the next morning. You will be advised to rest for three to five days, after which you can return to work if it involves only a desk job. You will be advised to wear a pressure garment for four weeks as it will help reduce the swelling and give a good contour to your chest. Activities like upper body exercises, swimming, jogging, and driving may be restricted for four to six weeks.
Also Read: Chest fat vs gynecomastia - What is the difference?
WHAT TO EXPECT FROM SURGERY OF GYNECOMASTIA BY OUR SURGEON?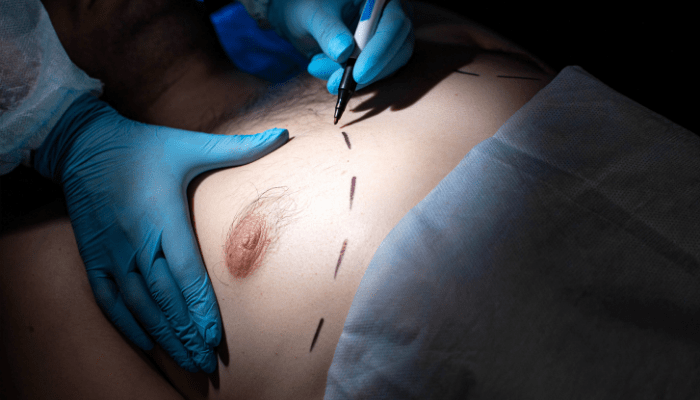 You may feel some discomfort on your chest because of the swelling and bruising, all of which can be alleviated with medications.
The swelling starts going down, and you are now closer to seeing your final result after 6 weeks. Though the scars of this surgery are practically not seen due to their placement, Dr. Ghuge will advise you creams to fade away any residual scars. You can get back to your regular activities after 6 weeks.
You will feel more confident in your skin, and there will be no hiding behind loosely fitted garments.
Chest exercises- 6weeks Cardio and others- 7days
Liposuction abdomen/ etching